Self-care has been a worthy topic of discussion for a few years now, and with times as they are…yeah, we all deserve a moment of it! And with these times, with so many of us either chilling at home far more than we usually would or tightening the proverbial belt, hitting up the local day spa for a pampering is a luxury not everyone has available.
In lieu of that…enter the "Anti-Grav" Foot and Bath Soak – as simple or as luxurious as you need it to be! (Looking for usage instructions? Click here or scroll down!)
The Anti-Grav Foot and Bath Soak was born from a pair of utterly abused feet, suffering through marathon training for the first time. These same feet had been a problem before, whinging the entire way from overweight ex-couch-potato to slightly leaner weekend warrior via a job at a walking tours company. By the time I'd hiked 20km of the Hollyford and run my first 10km in the Queenstown Marathon the following year, I had been toying with kawakawa for a while, and had begun planning ways of using it on more than just sore skin and sore throats. The wondrous sensation (in my humble opinion) of kawakawa tea searing the pain clean off a raw throat had me imagining dunking my screaming feet into a big-daddy cup of that tea and hoping it would make them pipe down in the same manner.
So it turns out, dunking one's feet into a big-daddy cup of tea to make them less sore is, in fact, a thing.
To date, I'd seen a few approaches. The most obvious was a generous shake of Epsom salts into a bucket or bath, and a 20+ minute soak. Another was much the same, using bubble bath or a splash of essential oils*. A third, inspired by falling head-first down the YouTube rabbit-hole, was to pop some choice herbs into a giant tea bag, steep them in water, and soak in the resulting herbal tea.
(* A quick note: please don't add essential oils to a bath or foot spa without some sort of a surfactant! Oil floats to the surface of water, and many essential oils are too potent to use in this manner – they can cause skin irritation.)
Treebrush Apothecary, I'm certain everyone has noticed, does not do things by halves.
Having tinkered with the concept for quite an extended period of time, the final outcome I arrived at is a foot soak that does it all – two straightforward parts, all sealed up in a handy paper envelope. "Anti-Grav" is a moment where gravity no longer matters. It's all three options rolled into one: a soothing herbal tea, filled with healing, anti-inflammatory goodies; fragranced bath salts to ignite the senses; and a soft, gently foamy 'bubble bath' to keep the oils safe, the fragrance pumping, and the skin clean.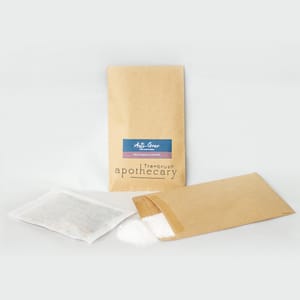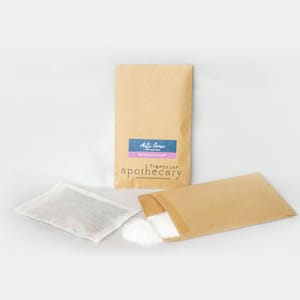 What is this Foot Spa, anyway?
In a nutshell, this is a two-part, super soothing soak you can put in a bucket or in your bath. Unite the parts in comfortably warm water, drop your feet (or your whole self) in, and enjoy its ache-relieving properties!
This is a decadent treat for anyone who enjoys putting the brakes on for a wee bit. Whether you ache to the bones from standing all day, running or walking, gardening, training, hiking, have chronically sore feet or just like to treat your hooves from time to time, these foot soaks are a soothing, fragrant bucket of happiness.
Part one: a soothing herbal brew
Inside the packet, you'll find a mega-sized teabag. There's enough herbs in there for at least one large bucket and will stretch to a full bath if you prefer. The herbs inside are:
Hibiscus petals – aside from looking and smelling wonderful, it's also lightly exfoliating and may help with wound healing.
Calendula petals – another skin-loving, anti-inflammatory, antimicrobial addition to the herbal package.
Kawakawa leaf – the star of the show, this endemic New Zealand plant has wonderful analgesic, anti-inflammatory and antimicrobial properties.
Comfrey leaf – also known as "knitbone", this humble garden herb can help with sprains, bruises, inflammation and joint pain.
Lemon balm – also contributes anti-inflammatory, skin-loving properties and has been used to help relieve pain.
St John's Wort – has been used historically for wound healing, inflammation, bruising etc.
Manuka leaf – renowned for its antimicrobial and wound-healing properties.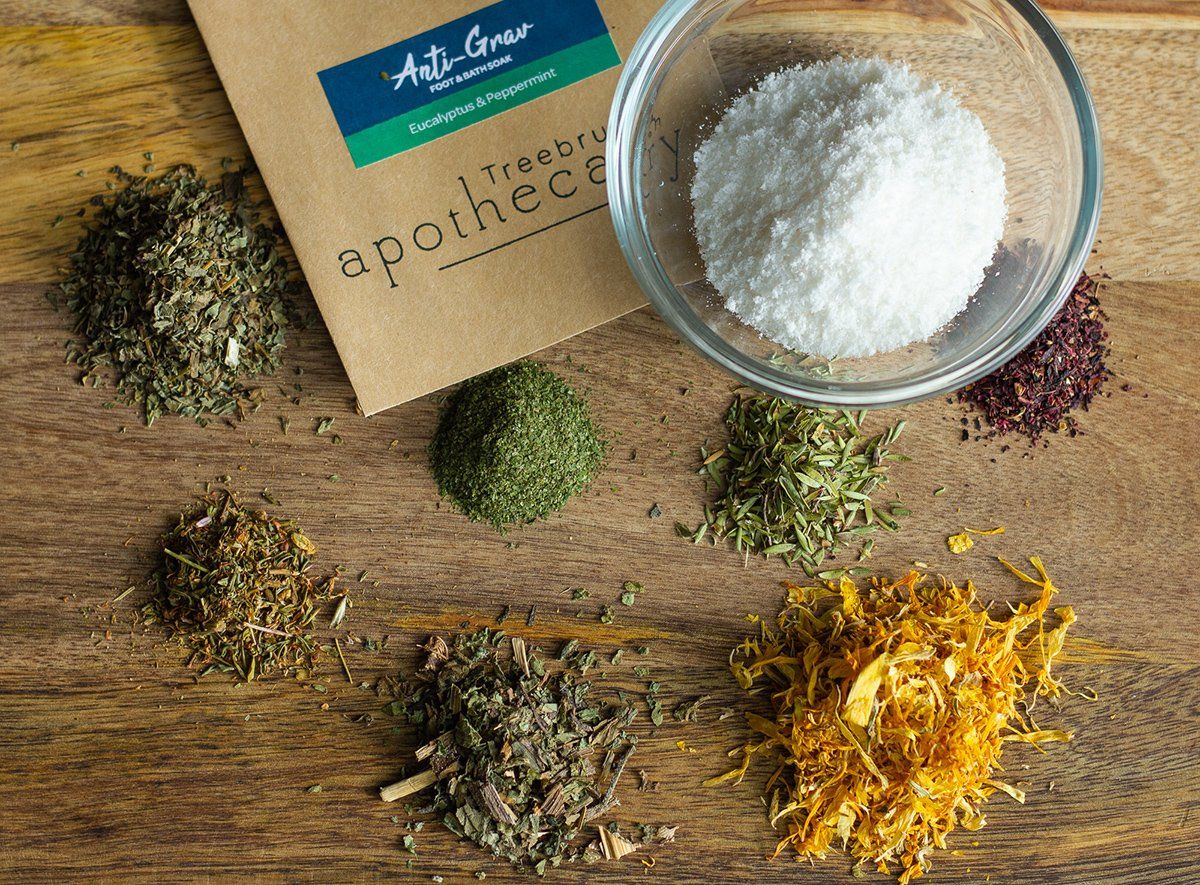 Whichever way you decide to enjoy your soak, you will want to brew these herbs as hot as possible. Just like with a cup of tea, you'll only get some of the goodness out of these herbs in cold or warm water. Boiling hot water extracts all the goodness.
If there are ingredients on this list that you'd prefer to leave out, contact us to ask about custom blends.
Part two: good ol' fashioned fragranced bath salts
Keep shaking, and you'll find a hearty scoop of some incredible-smelling bath salts. Epsom salts, regarded as a first choice for soothing sore muscles, make up the bulk of this formulation; the rest is essential oils or a fragrance oil, a mix of surfactants to emulsify them (and to prevent them from sitting on the surface of the water – safety first!), and a blend of salts and starch to keep the product flowing freely – even if you've left it sitting alone for months.
This is a mild, self-foaming formula that won't quite give you a rich lather, but it has a lovely soft skin-feel and will provide bubbles with a few vigorous swishes.
Whether you've got an essential oil blend or a fragrance oil depends on which Anti-Grav fragrance you choose.
How to brew the most luxe foot spa possible in your own home
So you've got a packet stashed for just this moment – aching feet (or, to be honest, your entire self) demand reprieve. It's time to claim an hour, or an evening, to relax and wind down!
There are two ways to enjoy your Anti-Grav Foot and Bath Soak (more or less), but for each you will need:
A kettle or pot. This brew will require some boiling water.
A vessel you can fit your feet into, approx 10L-25L. Or, alternatively, you can have a full bath with it!
Somewhere comfortable to sit.
A towel or two within arm's reach.
Optional, if you're in no hurry:
Pumice or a brush.
Extra Epsom salts.
A drink! A pot of tea, a cold beer, a glass of wine perhaps?
Mood lighting, or a candle or two – bring the spa to where you are!
Express method
This is my preferred method after giving my feet the bash after a day of gardening, hiking, or frankly, running around the kitchen making Treebrush Apothecary products from dawn til dusk.
Time required: up to an hour
Brew your tea
This just requires a kettle or two of boiling water. Depending on your vessel, you can simply pour a kettle or two of boiling water in, drop your tea bag into it, and leave it for 15-30 minutes to infuse.
Personally, I love watching the water change colours. I also love an excuse to use my fancy new glassware. So two full jugs into a 3L beaker it is! Once it's brewed, I chuck it into a bucket, add water to the correct temperature, and get on with relaxing.
A note about vessels: the bucket we have banging about at Treebrush Apothecary is a 25L square flexi bucket in duck egg green. It's sinfully ugly and almost too large. Anti-Grav beta testers got super creative! I've seen several full sized baths prepared, along with some genuine old-school metal buckets, a collapsible bucket (which was soon swapped out after collapsing!), a laundry sink (useful if you're tall enough to hop onto the bench – I'm certainly not!), a chilly bin, a Sistema container…as long as you can comfortably get both feet into it, you're away laughing.
As long as you use boiling water to start with, after a few cheeky stirs and 15-30 minutes of steeping, you'll end up with a lovely rich, dark colour to your brew.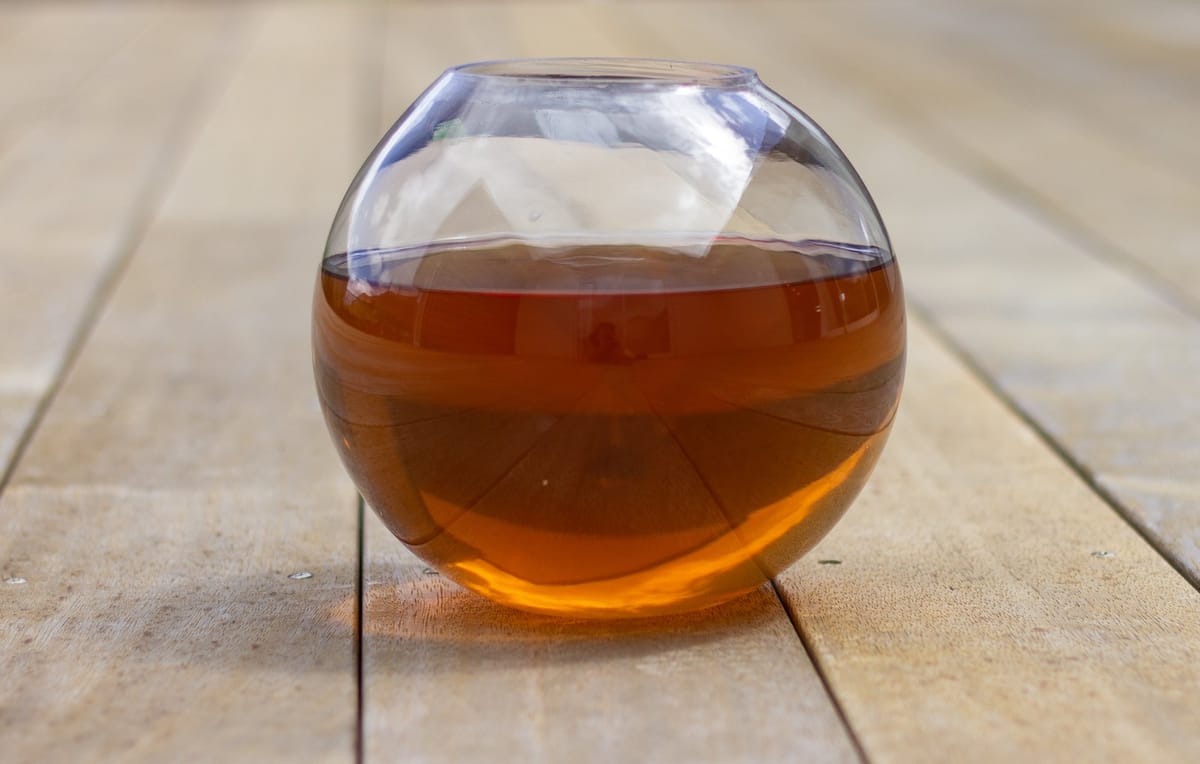 Prepare your foot spa
Once your brew is as strong as you like it, simply top up your vessel with a comfortable temperature of water (test it before you dunk!), pour your bath salts into the brew, and dunk your feet!
Are all the goodies you want near where you'll be sitting? Consider placing a towel within arm's reach when seated, along with anything else you'll be enjoying while relaxing.
You can add whatever extras you like at this point: more Epsom salts, your favourite foaming bubble bath, a pumice stone for some scrubby action. If you want to add your own essential oils, consider adding a splash of soap or body wash, or anything with a surfactant, to prevent the oil from floating on the surface.
A wee swish should liven up a few bubbles and release the fragrance. Keep a towel handy. Keep your surroundings in mind – make sure nothing water-sensitive is within kicking range.
15 minutes is a great soak time, but you can stay in as long as you like.
Ritual method
If you're making an evening of it, or you simply take your pampering seriously, this is the way to go. While 15-30 minutes of soaking gets plenty of mileage out of your herbal brew, letting it gently simmer in a pot for an hour or two will get a richer, darker, stronger brew. This is also the preferred way for preparing for a bath – the extra potency will hold up better to several hundred litres of warm water!
Time required: at least an hour
Brew your tea
This time, we're skipping straight to a pot. A casserole or stock pot is ideal, so long as you can safely lift it. Fill it up and drop your tea bag in, leaving it to gently simmer for at least 30 minutes and up to 2 hours. If the bag puffs up, try turning down the heat and releasing the pot lid so the bag can deflate. If you squish or squeeze it, it may burst. (Which, if you don't mind the leaves swimming about, adds an extra tactile experience!)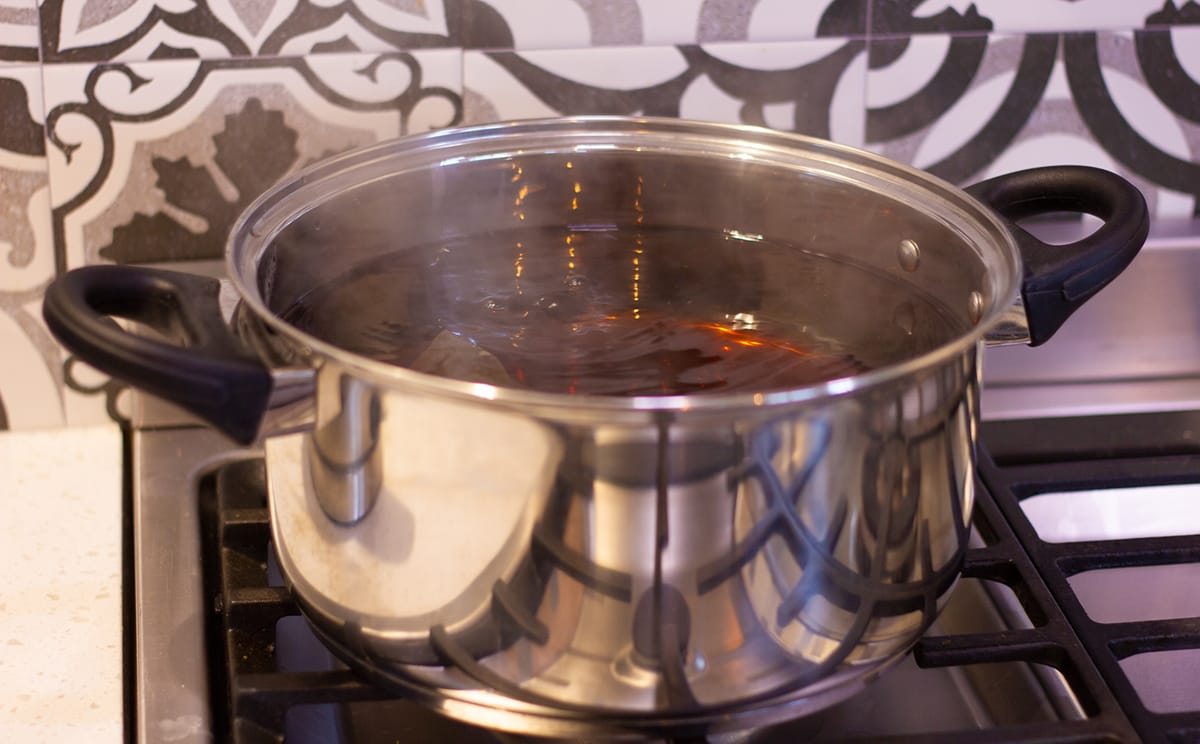 This method, as you can see, yields a darker red brew than the express method.
Once it's as strong as you like it, you can either let it cool before pouring into your vessel of choice or bath – or pour it in and dilute with cool water to a comfortable temperature. Test before you dunk!
Prepare your ritual
With your brew in its bucket or bath and at a comfortable temperature, now's the time to add the rest of the salts in the packet. Especially if it's a full bath, you can also add your own Epsom salts, your favourite bubble bath or surfactant, or anything else you might fancy.
Consider having a towel nearby if you're not in a bath, as well as everything else within arms' reach that you want to enjoy as you relax. This is definitely an excuse to turn your home into a day spa, just sayin'!
15 minutes is a great time to aim for, but you can stay as long as you like. "Until it's stone cold" has most certainly happened before!
Which foot and bath soaks are available?
At the moment, Anti-Grav Foot and Bath Soaks are available in single-serve envelopes in five fragrances:
There are several more fragrance options in the works, both as fragrance oils and as essential oils.
There's also larger refills on the way for enthusiasts – watch this space!